Overview
January - June 2020
Ideation | Virtual prototyping | Business viability | Manufacturable part design | Rendering | Video Editing
Solidworks | Solidworks Visualize | Blender | DaVinci Resolve
First
Anais Engelmann, Jonathon Tang, Kanya Thevanesan
Project scope summary
This project was centred around designing for an under-served user group. Our team decided to focus on improving the independent navigation experience for blind people. We talked with Mona Minkara, a professor of bio-engineering at Great Northern University, USA. She had recently made a short documentary series where she visited cities around the world to promote blind independent travel. We found a gap in accessibility of medium sized destinations such as museums and galleries. We therefore set out to design a product and system to enable an independent experience while visiting museums and galleries.
Find her documentary series "Planes, Trains and Canes" on YouTube.
NOTE: This project required identifying an existing brand and designing a product within their portfolio. The use of Google in this project is for educational purposes only and is not an affiliation in any way.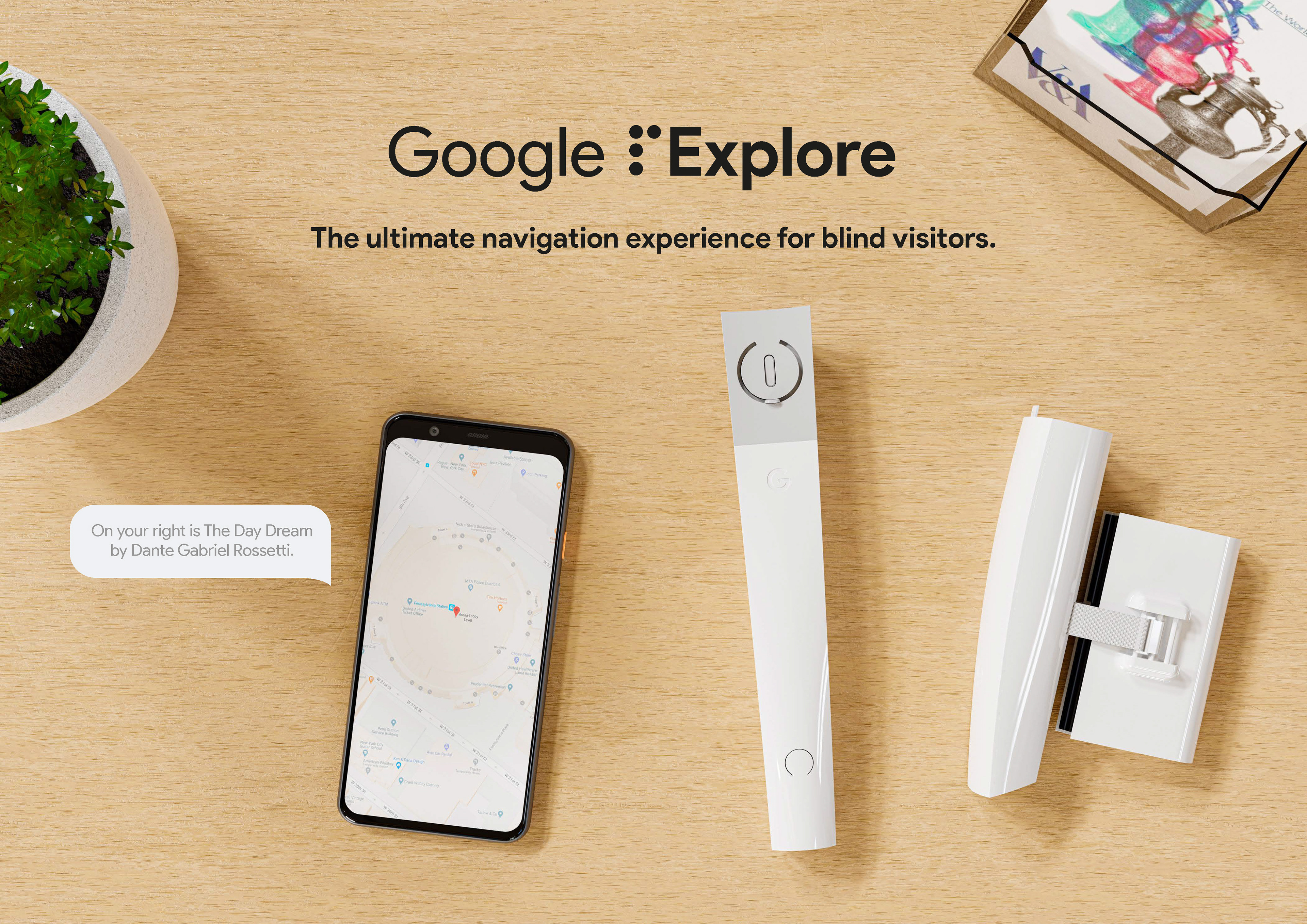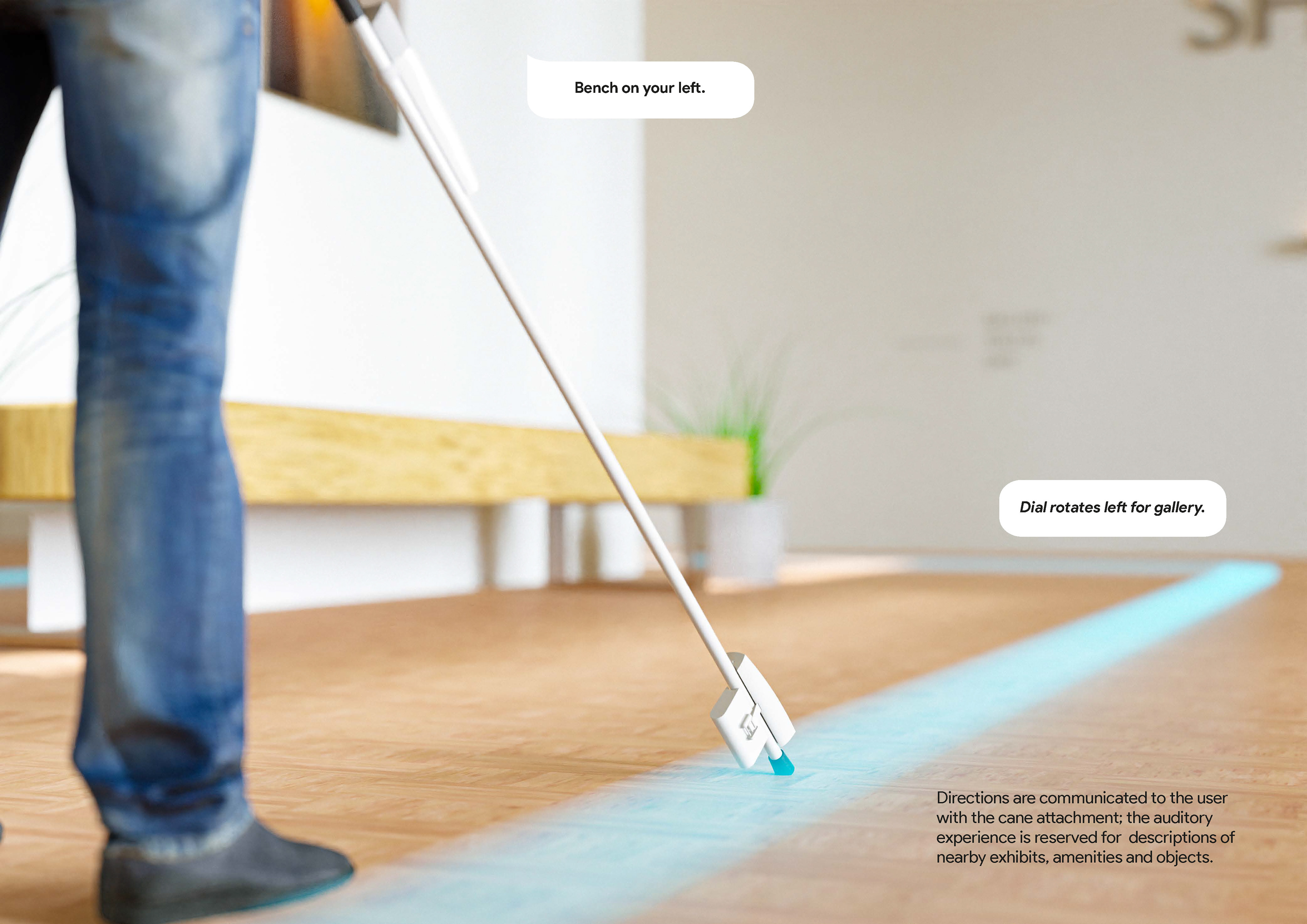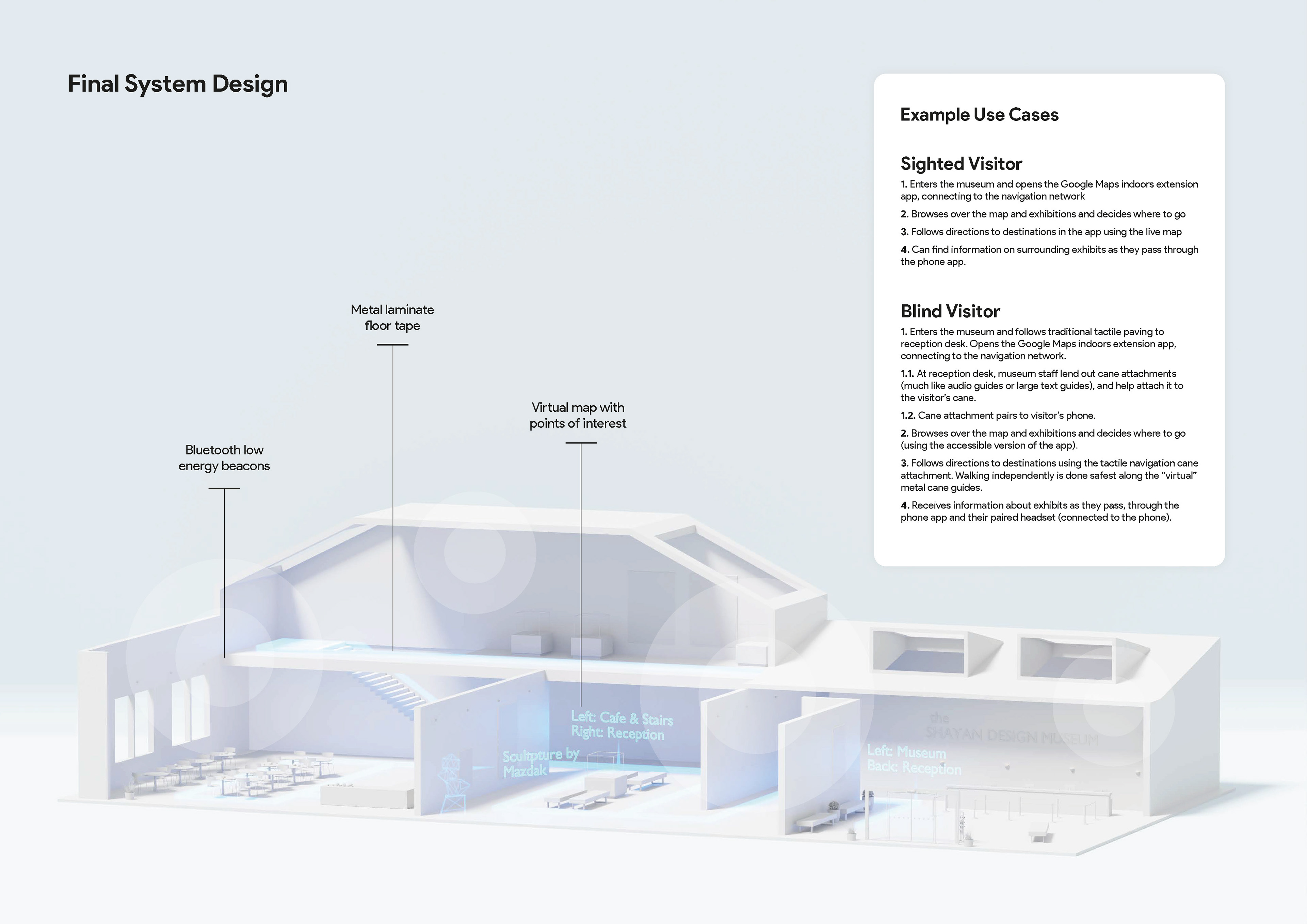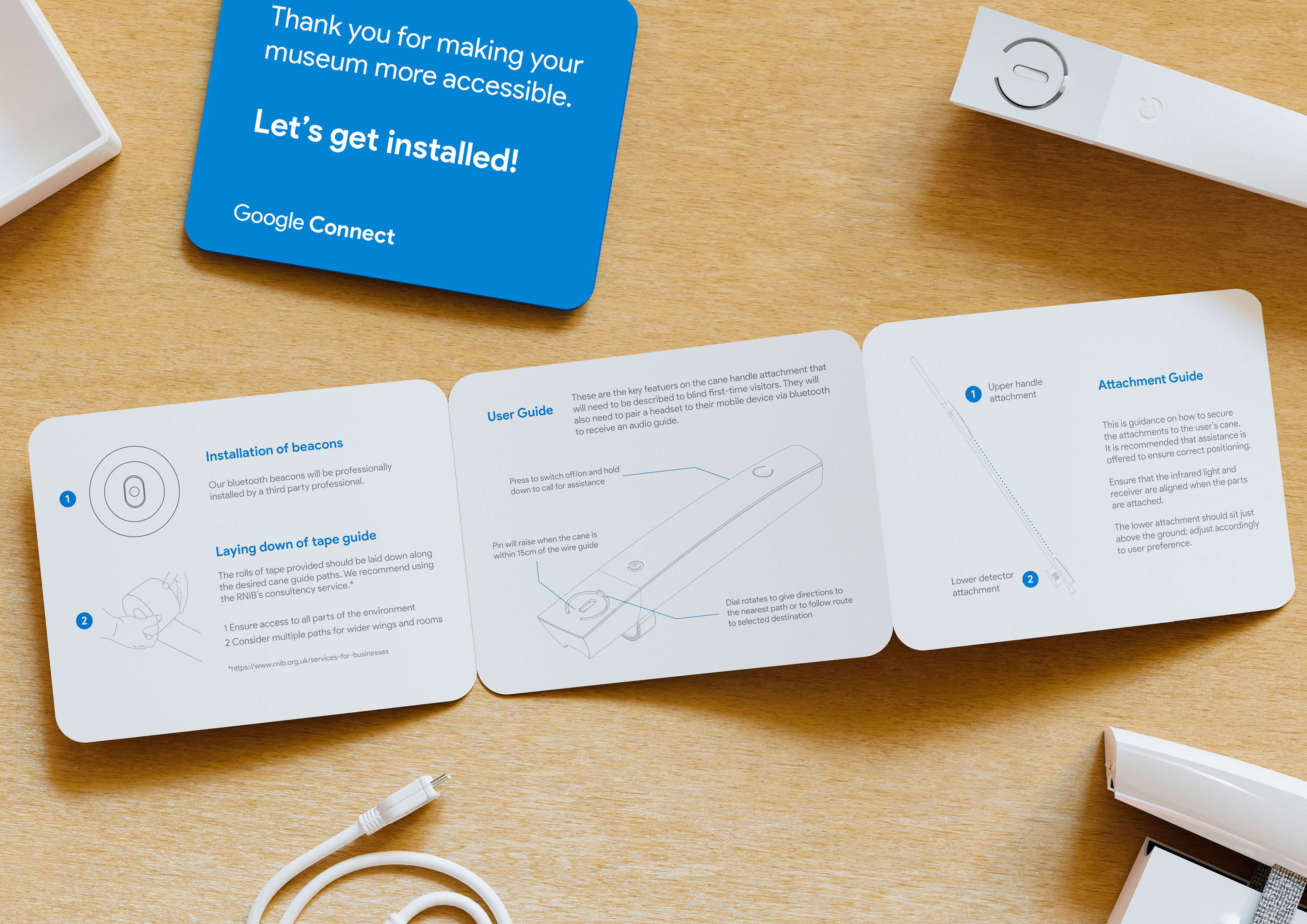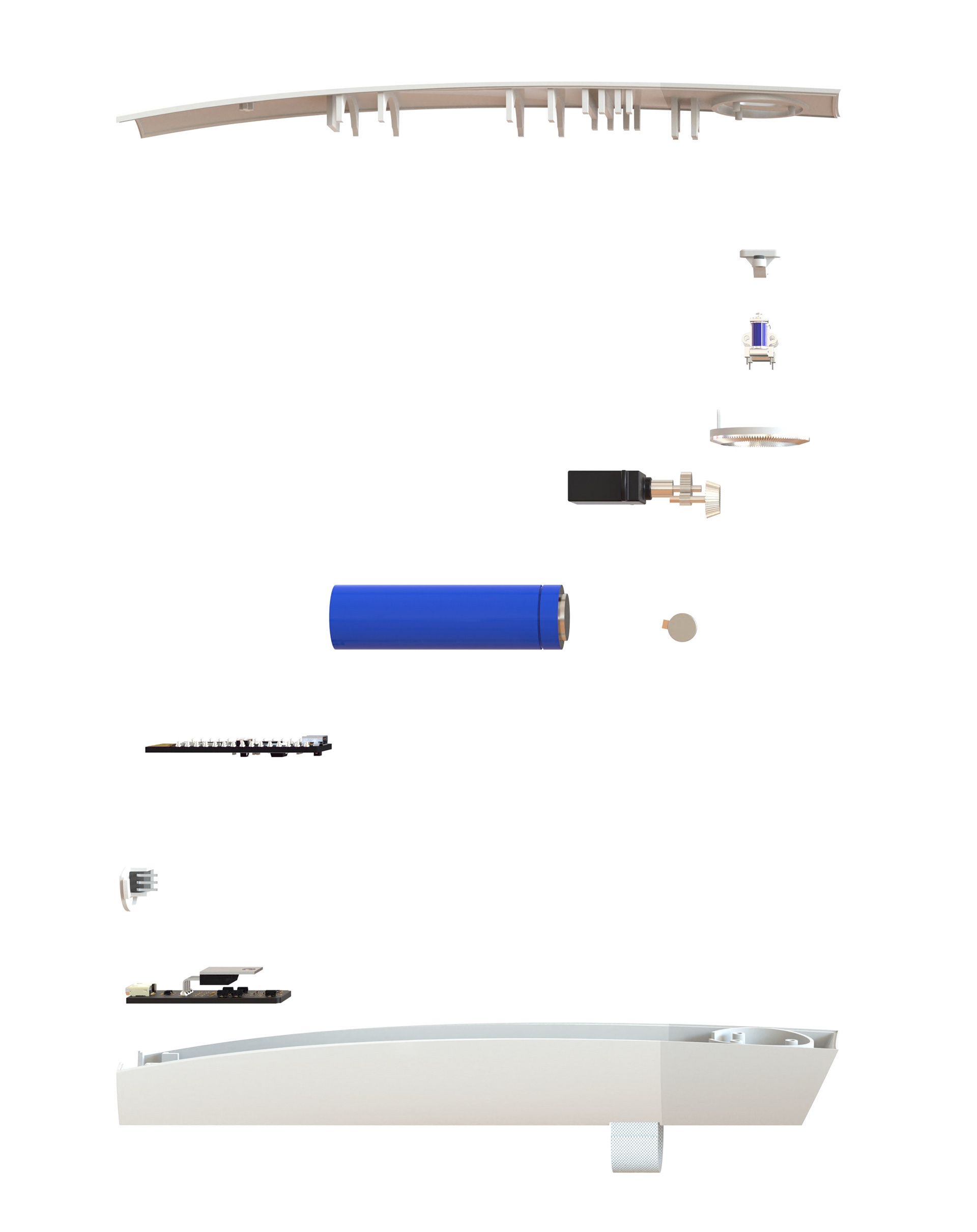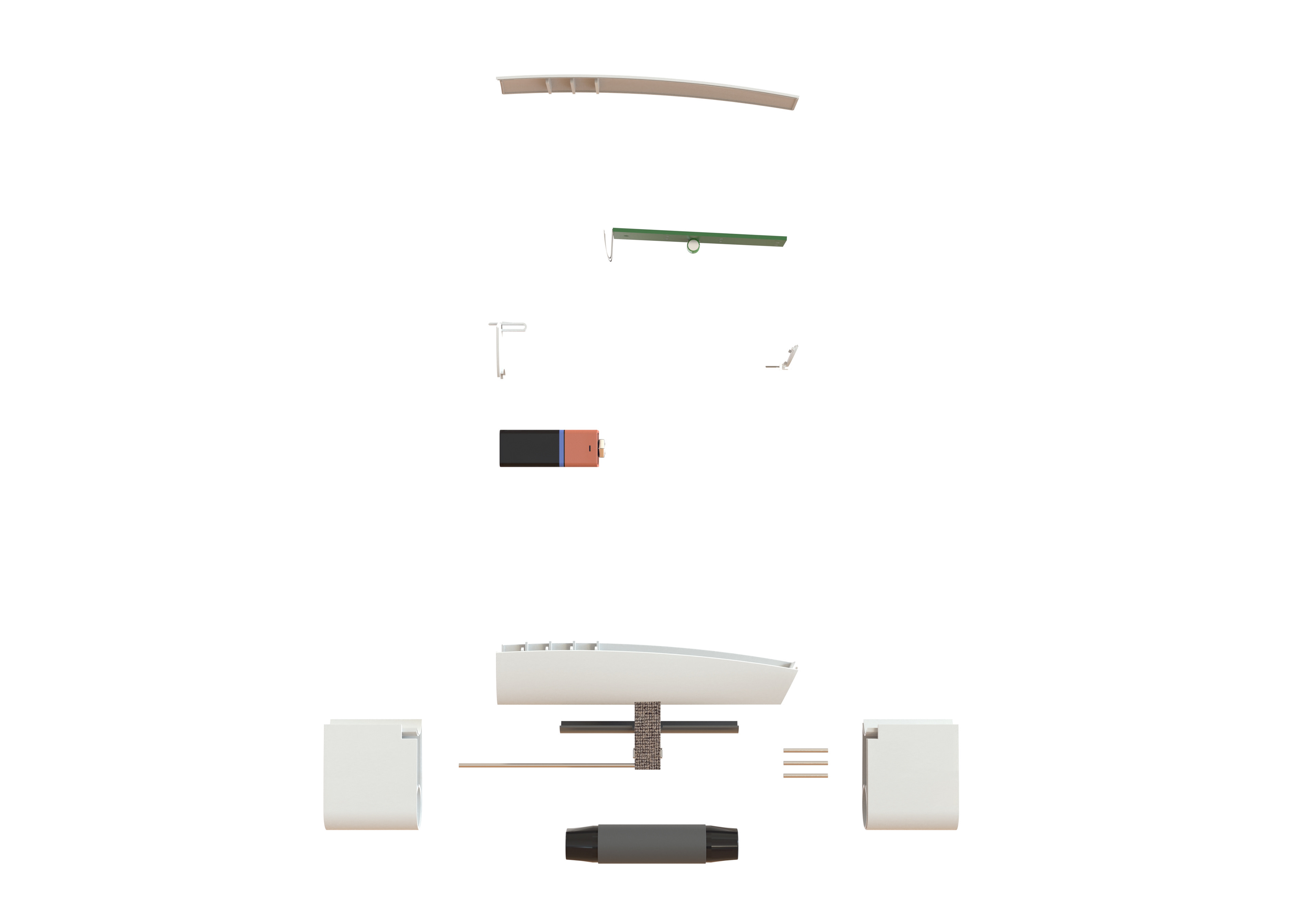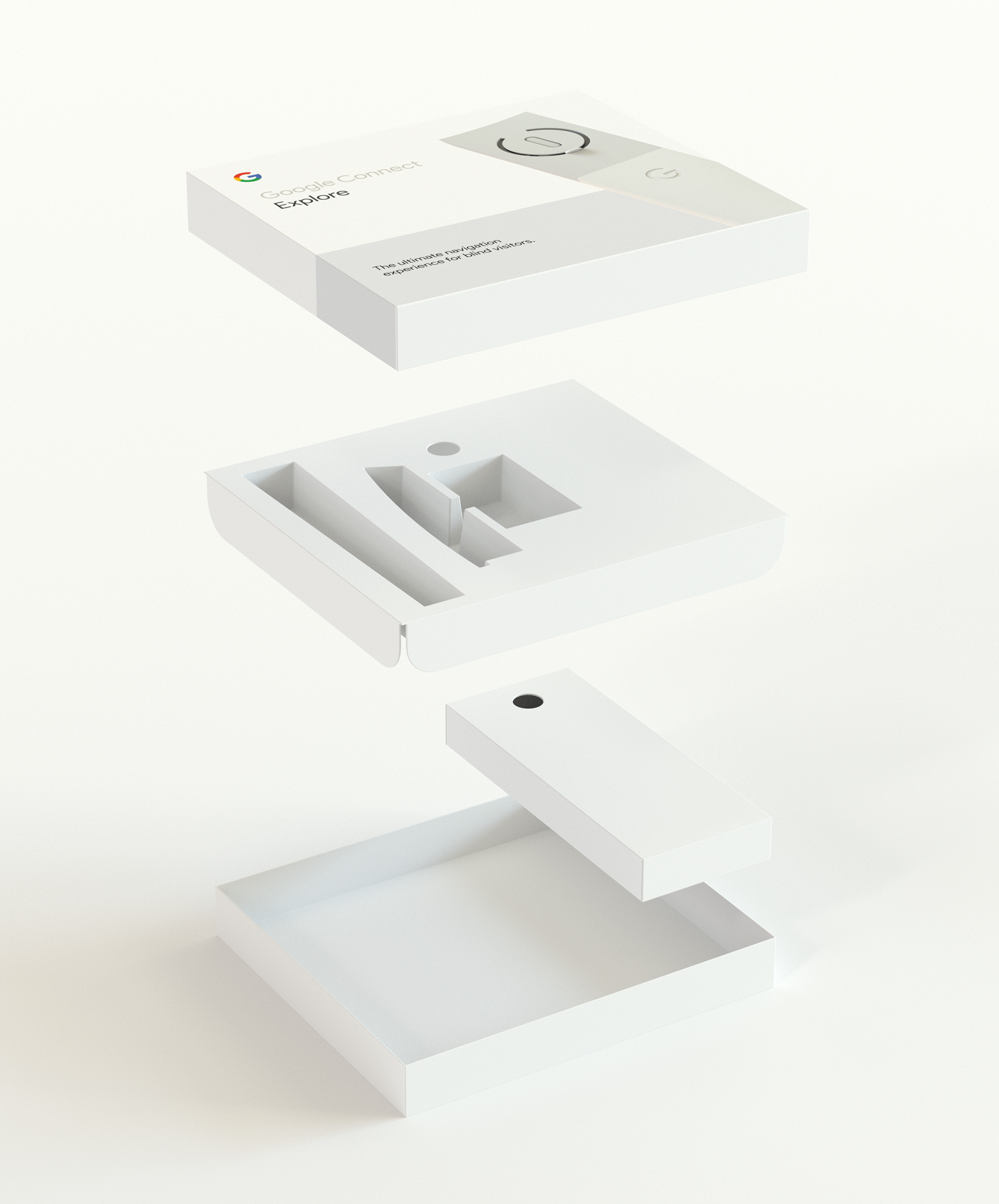 My contribution to the project development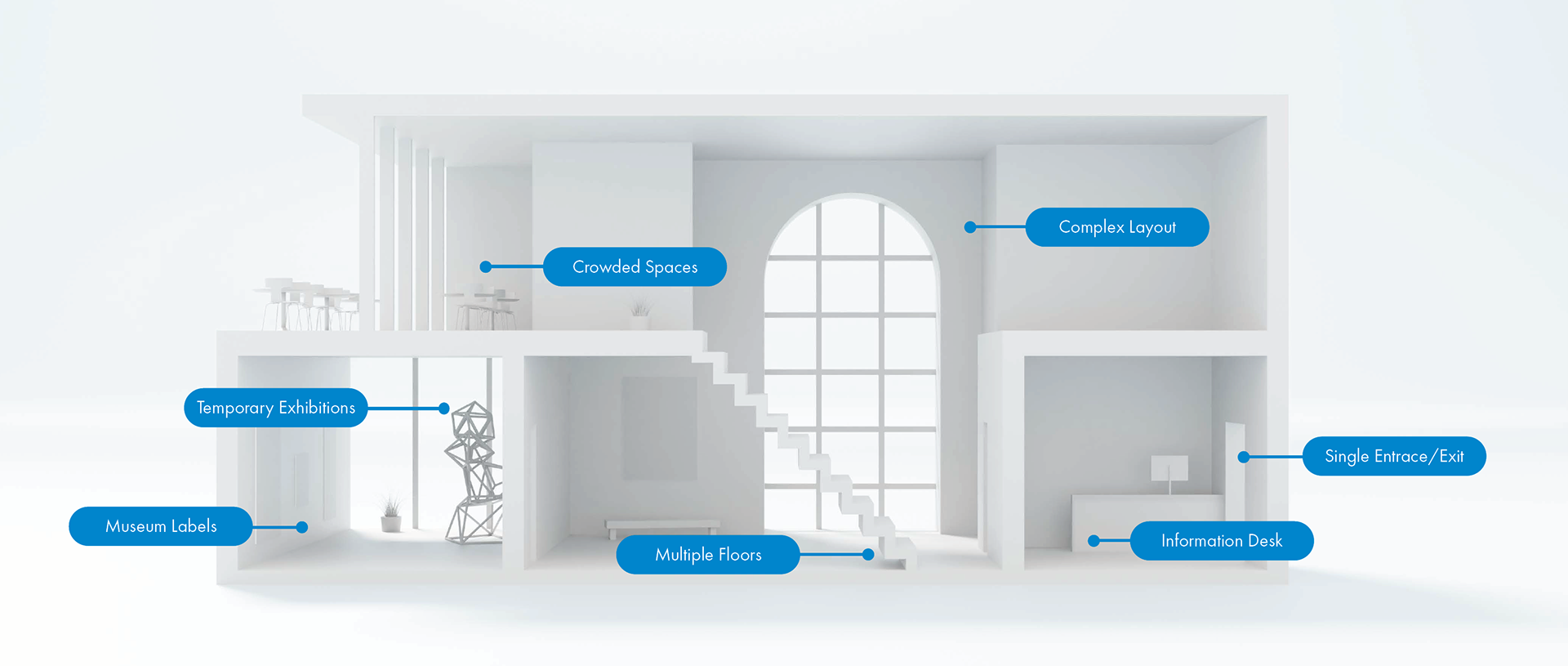 Need finding
The project began with secondary research, and interviews with various people including Mona. We learnt that Mona loves to travel and explore and do so independently. We studied different environments and how a blind visitor would navigate them, identifying the hazards and accessible infrastructure. Museums and galleries presented a good opportunity for innovation. They were desirable destinations, and lacked the cane guides / tactile paving required for blind independent navigation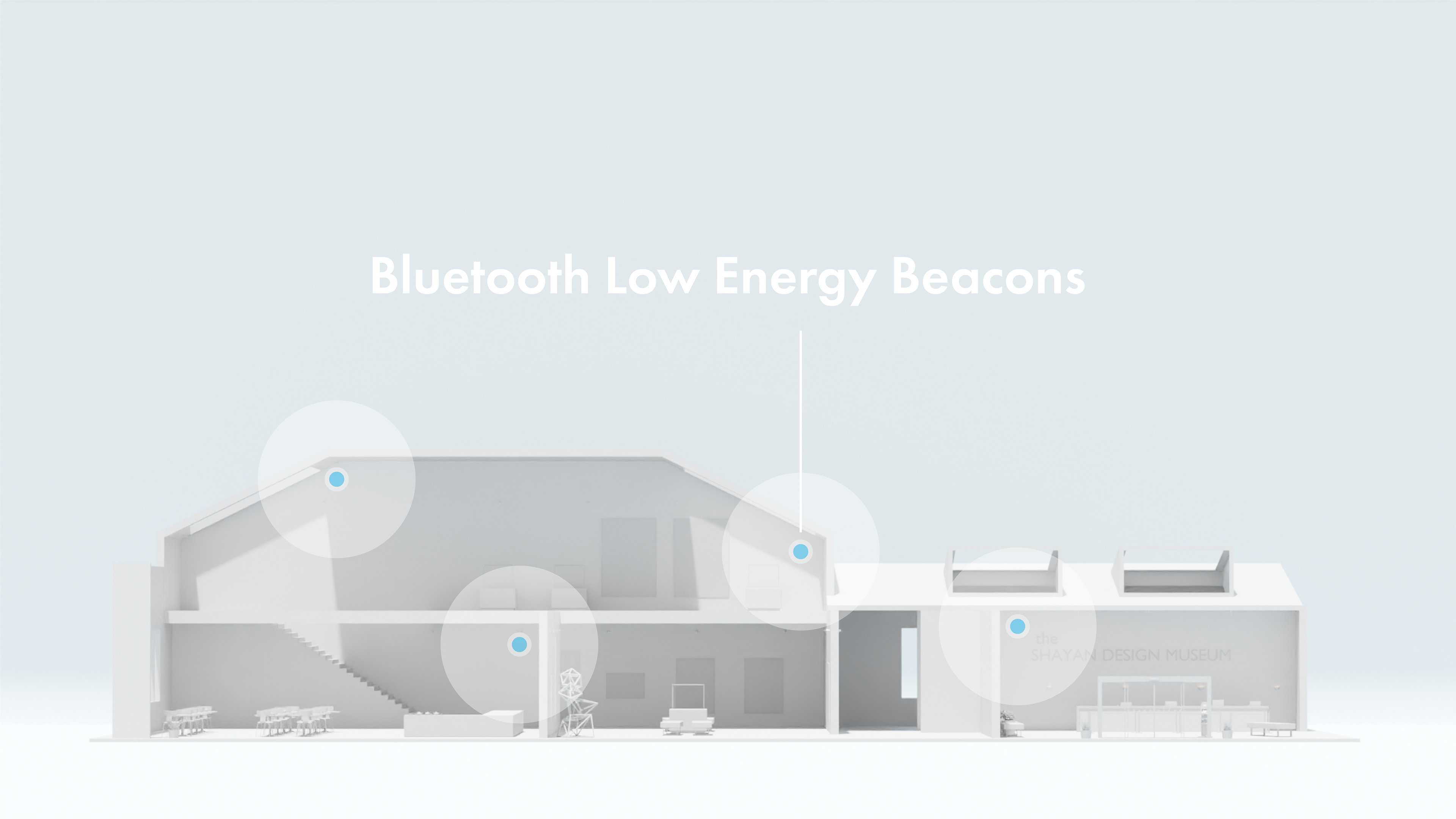 Technology design: Indoor Positioning
Our concept needed a way to guide a person through a museum and read out contextual information about what's around. It was my responsibility to research and identify the technologies to make this possible. The core proposal was to combine elements of Google's indoor mapping and Bluetooth Low Energy Beacon technology to create an indoor positioning system on an open and free platform. Private indoor positioning systems are currently being used in some office spaces to enable GPS like navigation indoors. We also noted the virtual map app the V&A have been working on to enhance the visitor experience. Taking such a map and combining it with indoor positioning would allow blind visitors to guide themselves just like they do outdoors, and receive audio descriptions of whats around.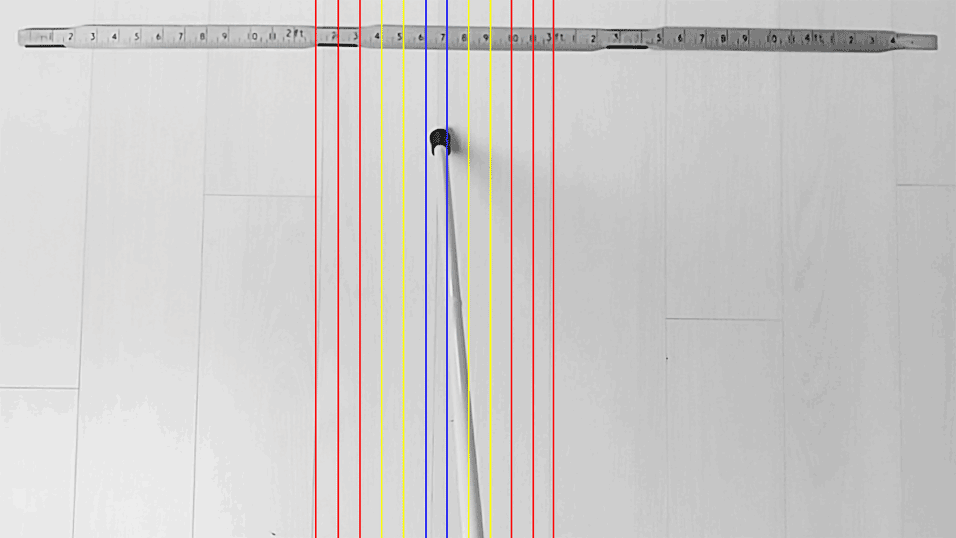 Technology design: Discrete Cane Guides
While the best way for a blind person to navigate is with a cane and tactile paving, we identified there was a stigma against using these in museum and gallery settings. Our plan was to recreate the guidance they provide in a near invisible form. By attaching a small metal detector to the cane tip on arrival, the visitor could detect thin metallic tapes laid down on the floor. The tape could have any outer finish and look as long as a layer of metal foil was inside. Tape could be stuck down along all walk ways.
I was tasked with designing an electronic system to detect the metal and relay this information to the user to best recreate the feedback from tactile paving. Tests I conducted in the prototyping stage included using vibrations for feedback, how fast the cane tip moves over the tape area, electronics and feedback response time, weight distribution, and interface.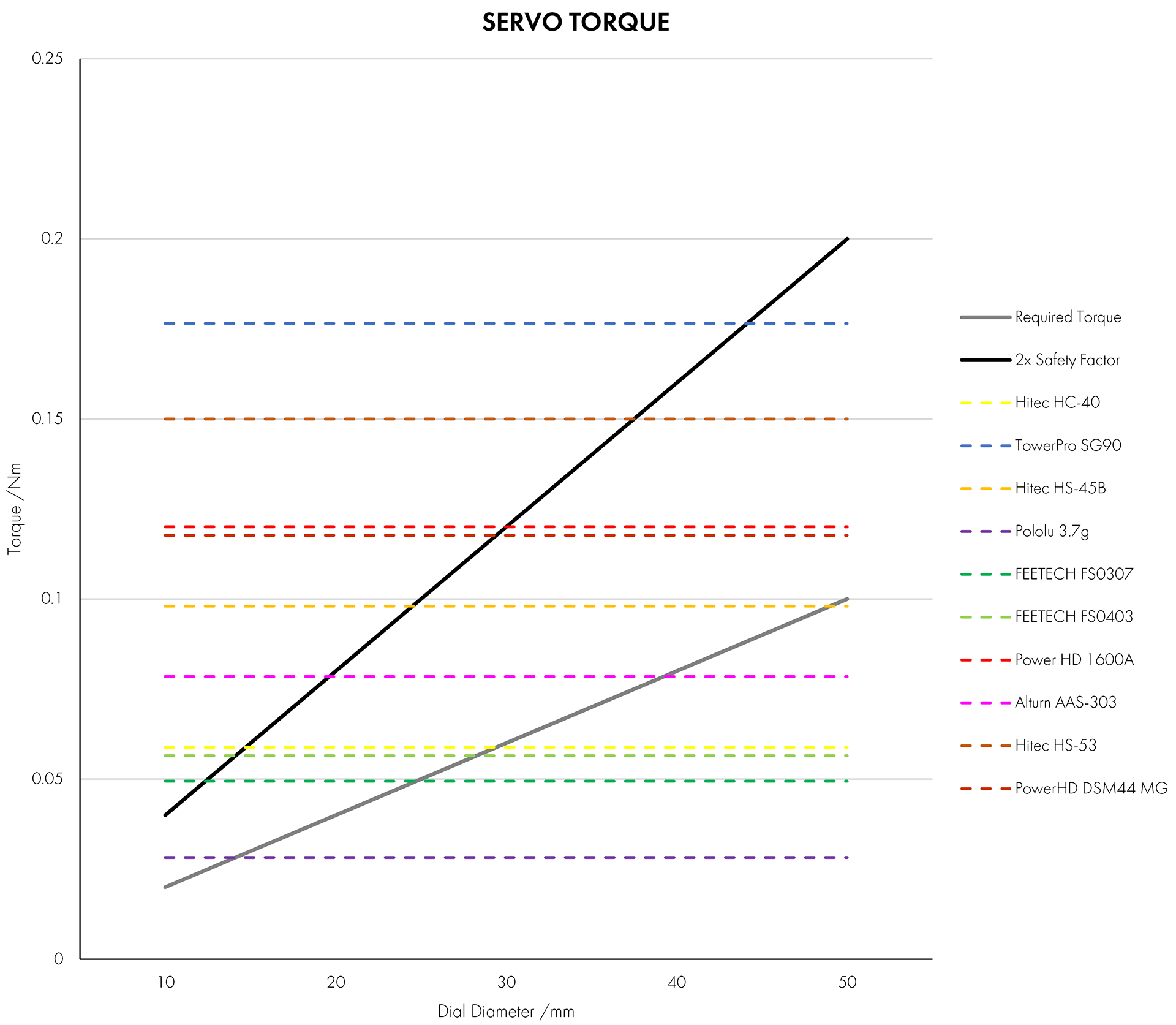 Component specification
Taking all the requirements, testing and prototyping results, I was then able to chose components to achieve function. The system was split into two parts. The lower cane attachment would detect the metal tape, and send this signal to the top attachment. This would trigger a small ridge under the user's finger to raise, indicating they were over the path.
The second desired feature of the device is translating spoken directions into a tactile form. To achieve this, a raised mark would rotate around the ridge to point in any direction.

The required motions were therefore rotary with accurate angular positioning and linear with short and fast travel. I considered the performances of motors, servos, solenoids, stepper motors and others.
The earlier testing gave torque and force values required for the desired function. For example, the rotating dial needs to overcome the force of a finger resting on the outer edge. Therefore, for larger diameter dials, more torque is required. This is shown in the graph along with torque values for different servos available. Another plot of servo sizes helped identify the ideal choice. Similar approaches were used for all key components.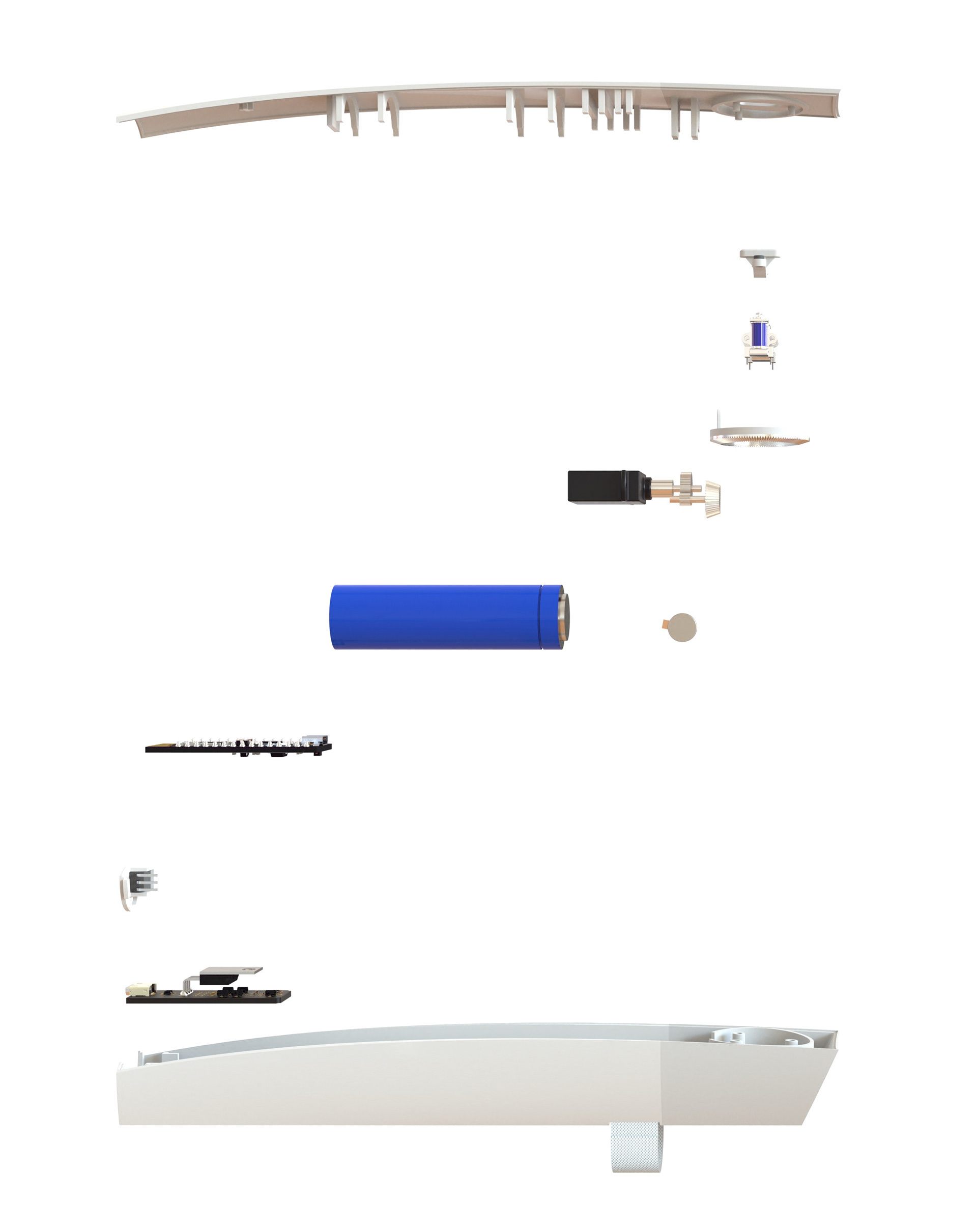 Device design
With components chosen and electronics circuits designed, I could design sub assemblies such as the gear drive for the rotating dial. I used a bevel gear system so the servo could lie on its side which kept a lower profile. Like this, the key aim of the design was to be low profile and in line with the cane.
I also designed a custom PCB board with all calculated and specified components. This board takes in a micro USB connector and provides power conversion to charge the battery and battery protection, voltage regulation for the logic board and servo, and a reverse voltage circuit to drive the solenoids. The board was designed to be slim and stack under the logic board for a low and narrow profile.
The casing was designed to be injection moulded using a simple mould to reduce capital cost. This was necessary for the low volume of production. All parts could be assembled into one half of the casing in the ribs and mouldings. The lid contains the negative of the mouldings to hold all parts in place. The lid was designed to be ultrasonic welded to the shell.

Pictured is an exploded view of the upper attachment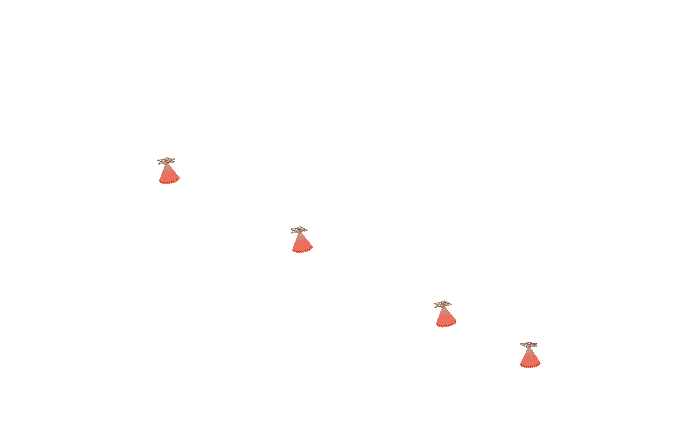 Part validation
All designed plastic parts were tested to ensure they were able to be injection moulded. The simulation study checks metrics such as fill pressure, fill time, front flow temperature and more, identifying sink marks, weld lines, cavities and if the part fails to form.  used these tools to modify parts, correct split lines, and redesign bosses where necessary. For example, the main casing of the top attachment had difficulty filling at the front end. This was resolved by adding vertical fillets to the dial support boss.
This stage helped confirm that all the parts were suitable for injection moulding.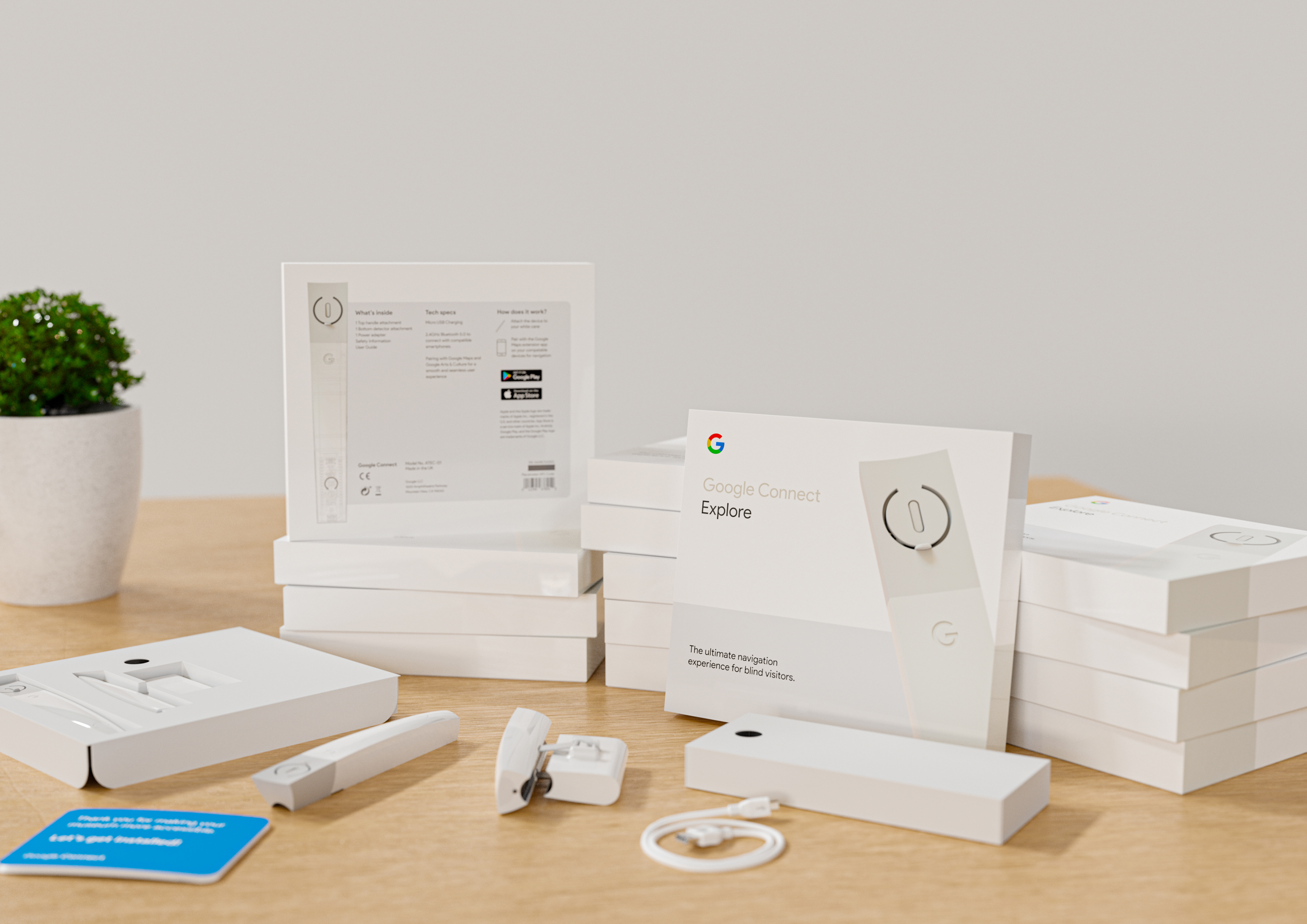 Final presentation
My last role was to produce the final renders and video presentation. A simple white background with wood table look was used for a natural look to fit into Google's style of product presentation. Pictured is the packaging presentation and design and unboxing experience.
I was responsible for the physical packaging design and modelling.